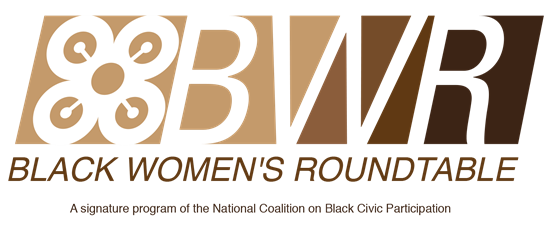 RELEASES ITS FIFTH ANNUAL REPORT
BLACK WOMEN IN THE U.S. & KEY STATES, 2018:
"TIME FOR A POWER SHIFT!"
On Wednesday, March 28th, the Black Women's Roundtable (BWR) released its 5th Annual Black Women in the U.S. Report, which assesses the challenges, triumphs and overall contemporary condition of Black women in the United States. This year's report is entitled "Time for a Power Shift" and sheds light on where Black women are today, socially, politically, economically, spiritually and health-wise.
Click

Photos Below

to access the Executive Summary or Full Report:
FULL REPORT EXECUTIVE SUMMARY
The National Coalition on Black Civic Participation (NCBCP) is one of the most active civil rights and social justice organizations in the nation "dedicated to increasing civic engagement, economic and voter empowerment in Black America." The Black Women's Roundtable (BWR) is the women and girls empowerment arm of the NCBCP. At the forefront of championing just and equitable public policy on behalf of Black women, BWR promotes their health and wellness, economic security & prosperity, education and global empowerment as key elements for success.