UNITY 2020 BLACK VOTING & POWER BUILDING CAMPAIGN
PHASE 4: GOTV, Voter Protection & Saving Our Democracy
October 12 – November 3, 2020
Power of the Black Vote Intergenerational Panel Virtual Media Briefing and Georgia Senate Race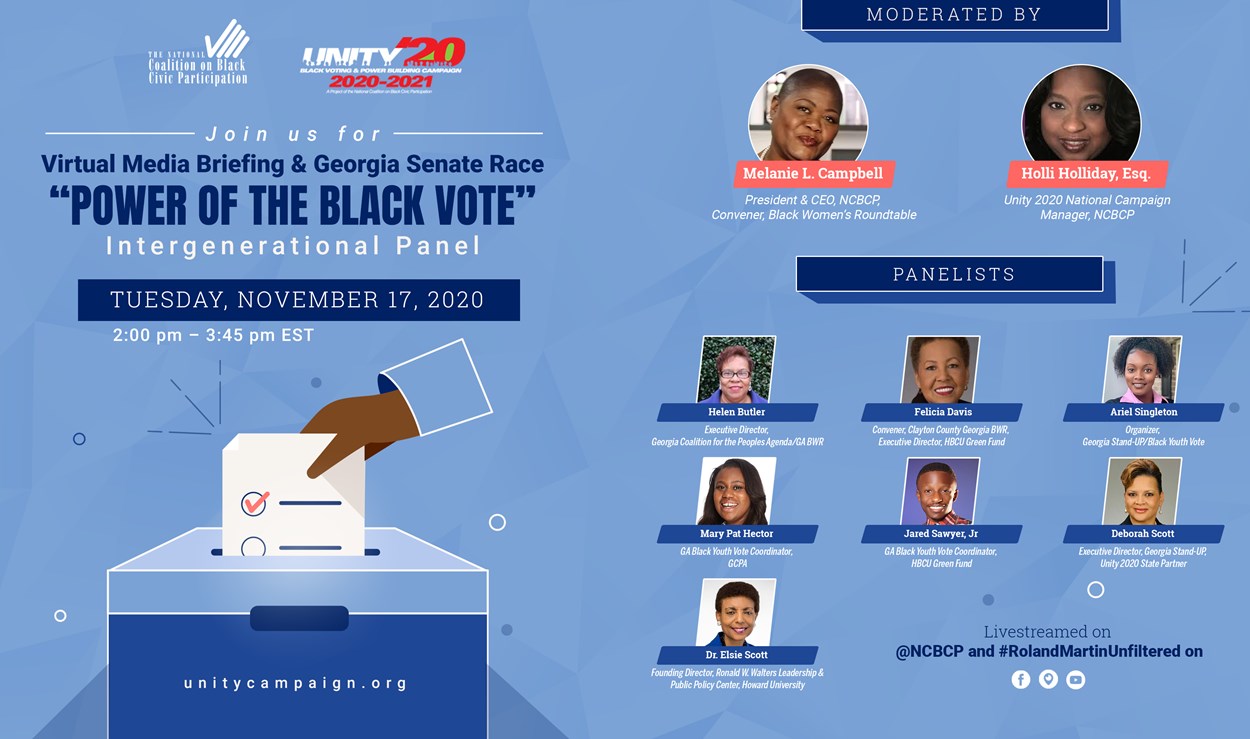 ---
Spotlight: Black Youth Vote Presents "Spill the Tea" Town Hall
Watch BYV: Spill the Tea replay now! Click here!
Unity '20 Campaign Phase 4 includes:
October 12 – 18th. Unity '20 BWR #PoweroftheSisterVote GOTV Week
October 19th – 25th. Unity '20 Black Youth Vote #Vote4Justice GOTV Week
October 26th – November 1st - Unity '20 Protect Our Vote & Democracy Week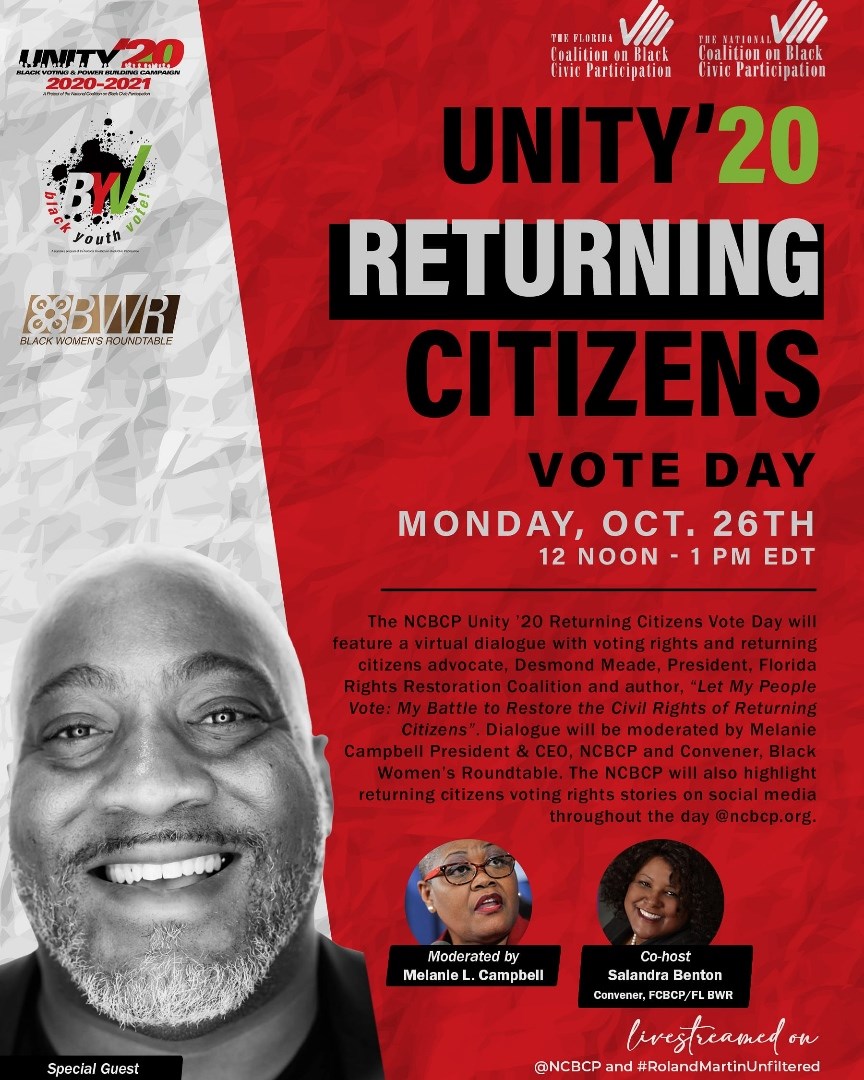 On observance of "Returning Citizens Vote Day!" on Monday, October 26, the National Coalition on Black Civic Participation (NCBCP) will feature a virtual dialogue between voting rights and returning citizens advocate Desmond Meade and Melanie Campbell, NCBCP President & CEO and Convener of the Black Women's Roundtable (BWR). Meade is also president of the Florida Rights Restoration Coalition (FRRC) and author of "Let My People Vote: My Battle to Restore the Civil Rights of Returning Citizens."

The discussion between Desmond Meade and Melanie Campbell will be live-streamed on October 26 at 12:00 p.m., EST on the NCBCP Facebook platform at www.facebook.com/NCBCP/ and on #RolandMartinUnfiltered Facebook, You-Tube and Periscope.
---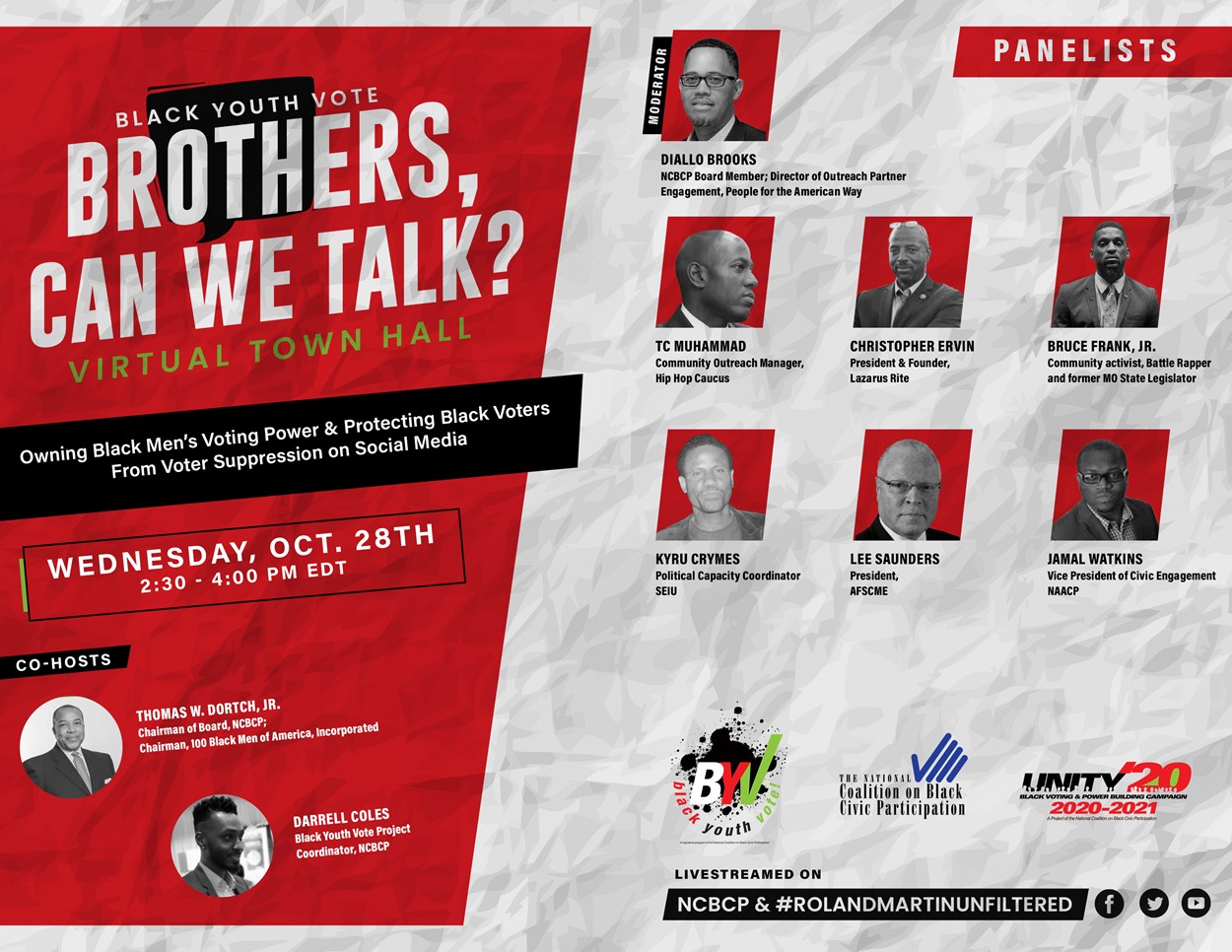 Wednesday, Oct. 28th
2:30 pm – 4:00 pm EDT
Livestreamed @ncbcp #RolandMartinUnfiltered on Facebook, YouTube IGTV
Black Youth Vote Brothers, Can We Talk Virtual Townhall: Owning Black Men's Voting Power & Protecting Black Voters From Voter Suppression on Social Media
The BYV Brothers Can We Talk Townhall will feature a diverse & intergenerational group of Black men leaders & influencers who will share how Black men are owning their voting power in 2020. Speakers will also share voter protection strategies and tools to fight against misinformation campaigns on social media and other tactics targeting Black men to discourage them from voting in the 2020 Presidential Election.
November 2nd – November 3rd Unity '20 Final 48-Hour GOTV & Voter Protection Push